who loves budgies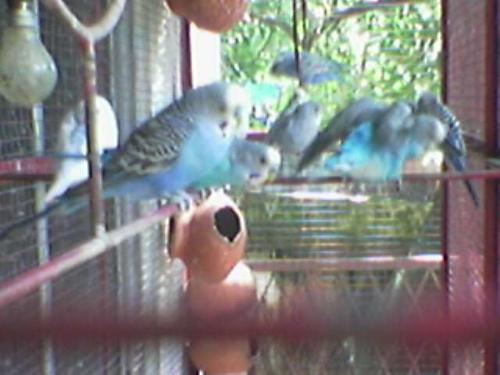 India
December 10, 2006 2:56am CST
I got about 28 budgies at home. Interestingly in India they are known as Love Birds only. Do let me know how you like the pictures I took with my 6600. I am sure that you all love the quality;-). I wanted to teach one of them to talk, but i had to leave home for work. so right now they are in the hands of my family.
7 responses


• India
16 Dec 06
does ur birds speak? what do they speak?

• Canada
18 Dec 06
Sam will say hi ya or hello ... :) He tries simple stuff or will chirp back at us. Sunny was one year old when we got her and was never taught to speak, but we try. I think the younger they are the better they learn. It takes a lot of patience and repetition. Good lucks!!!

• India
19 Dec 06
yea, you got to start young, otherwise you may never teach them to speak, also for better results you have to be its only family. means, if there are other budgies, then they would prefer to speak in "budgie tongue". if there are no other budgies, then you are its family and it will try speaking your language.

• United States
20 Dec 06
28 is a lot of birds. I bet they keep you busy. I call them parakeets but I have heard them called budgies. I don't have any now because I have cats and I don't trust them. But I did have them before but was never able to teach them to talk.

• India
21 Dec 06
yea they are a lot.. they just keep on breeding and the cage is also pretty big. but they dont require that much maintenance.. and right now im not at home, so its my parents who take care of them
• Canada
31 Dec 06
O my!...I have just one budgie and he is like a 2 year old child with so much demand for attention and he is pretty noisy at times too...I can't imagine how noisy 28 of them are! :0 good luck with your birds!
• Canada
11 Jul 10
My budgie is much smarter than I am. He is a brilliant little fellow and I marvel at how he looks at the computer screen and watches as I type or when I put on a video he watches it with me sometimes. He also can recognize people on Skype that he has seen and he enjoys chirping in whenever I make a voicemail!

• India
13 Nov 09
I like Budgies very much,they are very cute to see.These Budgies are similar to Love birds.I have brought two budgies to my house and for these birds i have brought one cage and it is very expensive.Everyday i take care about these Budgies and their food and diet.Whenever i went outside i will keep them in a safe place i.e cages.These budgies look very cute,funny and pretty looking.

• Malta
9 Nov 08
I have a budgie. It's name is Peter. Its my son's pet. They are fun to watch even though they are a bit noisy. © ronaldinu 2008

• United States
30 Sep 07
I only have one budgie but I love her dearly. I wish I had more. I think in the future I want lots and lots of budgies. I love watching them interact and play together. Happiness is a happy budgie. :)