Have you seen a horror movie and scared to hell when you were young?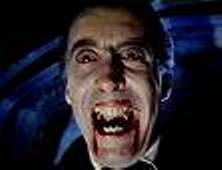 India
December 10, 2006 6:30am CST
I was tewlve when I saw "The horror of Dracula" and got scared like anything during the following days.
5 responses

• India
10 Dec 06
Well yes same here i saw dracula and it was a real hair raising movie I could feel the chill in my spines AS of now there isnt a movie that can scare me so much but then those were the childhood days!

• United States
11 Dec 06
hahahah!! yess!!I have been a Horror fanatic for as long as i can rememeber,,,but when i was 13 i was at a sleepover..and she rented this movie..soemthiNG Demons..and i have yet been able to find it to see it again..because there are so many made like it..but havent found that one..anywho..it was the most scariest movie i have ever seen..and i had nightmares for months afterwards!! lol..but then again it never stopped me from watching them lol i dont think i have seen your movie i will look for it and check it out..

• India
10 Dec 06
yes i have seen a horror movie and i like it very much .but after that i scare .

• India
10 Dec 06

I saw the japaneese version of the ring.. or ringu .. and thats one Freaky movie...it really freaked me out!!