Including gangully in indian team is politics or his own talent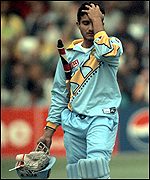 India
December 10, 2006 9:42am CST
i think it was both politics and his talent and also very imp he has experience
4 responses


• India
29 Dec 06
thank you for creating such a discussion which make easy to reply and discuss further.... i think so.. its happen only in india...

• United States
11 Dec 06
I don't know about this gangully team, but I'd think it has something to do with the politics as it always does with everything else around us.

• India
10 Dec 06
you think its politics? it was politics which got him out. how can it be politics again to get him in? you just have to look at his records to answer that. his talent is unquestionable. he has experience and great leadership qualities too. he is particularly needed during this bad time of the backfiring experiments of chappel.