Do you like art? Have you ever bought artwork? Do you have any museums or

United States
3 responses

• United States
11 Dec 06
No art museums, but I do buy art. I have a lot of fantasy art, though. Ruth Thomphson, Nene Thomas, Amy Brown, etc. And some beautiful ship art by a local Seattle artist.

• United States
11 Dec 06
Oh I love those too. Do you know of jasmine becket-griffith? I like her art a lot too.

• United States
11 Dec 06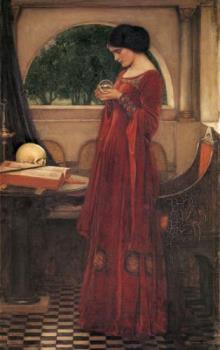 I've got a reprint of John William Waterhouse's "The Crystal Ball" plus a couple of his poster reprints ('The Lady Shalott' & 'Miranda the Tempst'), Van Gogh's 'The starry Night' (poster reprint), and "The Creation of Man" by Michelangelo (poster reprint). No art galleries though in my little town. I don't know that I have a specific type other than paintings...and John William Waterhouse is my FAVORITE artist. Some I plan on buying in the future though is: by Waterhouse - "Boreas" (my pic) reprint canvas, Da Vinci - "The Mona Lisa" & "Testa di Faniciulla Detta" reprint posters.

• United States
11 Dec 06
I love Waterhouse too! One of my favorites. Starry Starry Night is my 2nd favorite piece of artwork (Botticelli's Primavera being the 1st). I own a few pieces of art. An original painting by some up and coming Florida Artist. It was a gift, so I'm not sure who the artist is without looking at it. We have two original prints by Larry Carlson that we bought over the summer in NYC. And we got a print from the art auction on the cruise we went on. Not sure who it is by... no one I recognize. It was the free give away for going to the auction. I want to get a piece by jasmine becket-griffith.

• United States
26 Jan 07
Cool. I got my Da Vinci's for Christmas :) I really like them. I'm having a hard time finding a frame for "The Mona Lisa" though. I'm going to have to go to Michaels and have one made.

• United States
2 Feb 07
My mom is going to Italy next summer and I told her she has to go see Primavera by Botticelli and bring me back a print.

• Japan
26 Jan 07
i love art in any form. i do some photography and i really enjoyed it. i love paintings, poetry and i love everything about art. For me, art is something that a certain person do to express his/her inner thoughts and outmost feelings. It is a form of letting go something inside in a person.