Christmas Celebration

India
December 10, 2006 10:31pm CST
How you have planned to celebrate your Christmas Night? I have planned to go out with girlfriend for Dance Party and if possible to make more new friends, plus I have already started sending wishes alongwith my MyLot ref. Link to them. Happy Christmas, Happy earning.
3 responses

• United States
19 Dec 06
Christmas Eve will be spent with my family, opening presents and enjoying the 3 toddlers we're blessed with. Christmas Day will be spent with my husband's family, opening presents with his six siblings (!) and having dinner with grandparents from both sides. Interesting idea, sending your referral link. I don't know anyone who has enough spare time to spend here!

• United States
19 Dec 06

Christmas eve I will take my mother to a candle light service at our church, then we will ride through the city looking at all the beautiful Christmas lights. After the lights we will go back to her house and join in a delightful meal with friends and family. Then we will exchange presents and open gifts, laugh, talk and enjoy our new prsents. After all this it will be time to clean up the gift wrapping, put away the food and retire our own homes. It will be a lovely evening with friends and family. Merry Christmas to you and your family.

• Belgium
11 Dec 06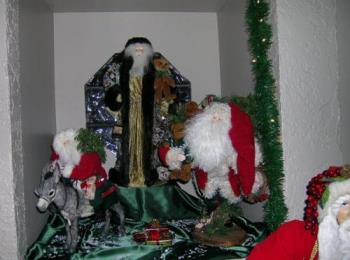 On Christmas Eve (le réveillion de Noël), a special meal is eaten by most families. It starts with a drink (apéritif) and 'nibbles', followed by a 'starter' course such as sea-food, and then stuffed turkey. The dessert is 'la bûche de Noël', ('Christmas log') - cake made with cream. Father Christmas is called 'Saint Nicholas', the same as in Holland and he is believed to bring presents to children on December 6th, St. Nicholas Day, a long time before Christmas. Small family presents are given at Christmas too, under the tree, or in stockings near the fire-place, to be found in the morning. Christmas breakfast is a special sweet bread called 'cougnou' or 'cougnolle' - the shape is supposed to be like baby Jesus. Some families will have another big meal on Christmas day.