Friends with Benefits?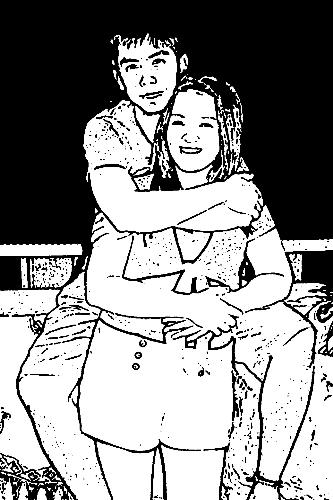 Philippines
December 11, 2006 12:11am CST
I fell in love with a friend. I told him my feelings for him but he said he wasn't ready yet to commit. I tried to understand him and respected his decision. I cooled down and avoided him for a while. It has been more than a month. Then, he invited me for a snack. We brought our friendship back again to where it should be. We're friends again. The problem is, when we went out-of-town for a vacation with other friends, he was extra sweet and romantic. Since we were the last two who slept, we had no choice but share the remaining bed. We have no pillow and blanket and the aircon was so cold. He hugged me, I hugged him, too. He offered his arm for my head to rest. Then, he searched for my hands with his fingers between mine. We woke up realizing we're still in a sweet embrace, our hands holding tight. I jocularly asked him, "Why are you embracing me? I thought we're only friends." And he answered, "It's cold." I do not know if his answer was only a defense mechanism to what he truly feels for me. Until now, I am expecting "him and me" to be "US." Should I hope or just accept the fact that we are meant to be "friends only"? What do you call us, FRIENDS WITH BENEFITS? I want to be in a commitment and not in a cliffhanging situation. Is it possible that he's in love with me already? Should I ask him or let him do the first move? Help!
7 responses

• India
13 Dec 06
Hey thts the most appropriate title u'v given to it.... neyways, i wld suggest u to ask him once again but this time be little aggressive i am suggestin u this bcoz,if u ask him again all d doubts wld b clarified... and still if he says no, thn jst leave those feelns and simply njoy the frndship

• Philippines
13 Dec 06
my deepest gratitude for your comment! as for now, i'll focus on our friendship.i'll just wait for him to realize what he truly feels. i don't wanna pressure him, it might get worse. maybe all we need is time and space. thanks.

• India
14 Dec 06
Hey ill wait for u to tell me wht happnd finally....

• United States
15 Dec 06
just give it time if its meant to be it will be

• Philippines
26 Dec 06
i am not pushing myself for him to love me. friendship is my priority now. though im moving on, i won't ruin our friendship. if he doesnt love me, let it be. if he falls in love with me, i'll just cross the bridge when I get there.

• Philippines
15 Dec 06
don't expect.. just enjoy the "kilig moments"

• Philippines
26 Dec 06
salamat, mare... may nalalaman ka pang "kilig moments" jan!

• India
14 Dec 06
No it is wrong you both are only attraction it is not love you both are enjoying life like friends but did not like lovers and after marriage you both are not happy because at first only he acceptyou love it shoul different but after some days that is after your vaccation only he tells then he likesyour body not your heart so becarefull with that guy he is not a frienddid not a lover

• Philippines
15 Dec 06
thank you for pointing out a different perspective. it's really enlightening. i guess, you're right, if i'll push myself to him, we'll probably end up being in a failed marriage. but what if it doesn't? haaayyy... love is really like this, you'll never know that it's love w/o being hurt.

• United States
13 Dec 06
Good for you. But how much do you know about him. Let me tell you something. Sleeping that close to a person will instill feelings for him but you have to think out of the box, in the sense is there any practical difficulties in two if you getting together. And is he compatible to you and things like that . Just deciding to stay with a person because he embraced you on a cold night sounds insane. Just give it time and see if you have the same feeling for him say after 3 months and then decide. Hope this throws some light. take care

• Philippines
13 Dec 06
i think i forgot to mention this: we've been friends for more than a year and i think i know him that much already before the "sleeping closely together" moment. thanks 4 d comment. you're right, i'll just give us TIME to put thing in their proper places.

• India
12 Dec 06
ohh gurl!! well i hav been in a very similar situation!! he dosent wanna hurt you, neither does he want to get into a commitment i guess!!, he's just confused like you!!. find out more abt him!, like he made u feel special... make him feel special, see how he takes it. if you both are meant to be u will be cheers!! JOY PS: sumthing similar happpend with me in GOA!!

• Philippines
13 Dec 06
that's what i'm doing now - being with him without expectations. though i have special feelings for him, it's not guaranteed that he also feels the same, right? so, i'd better ignore the feeling and enjoy the friendship. it's better like than expect and get hurt. thanks for the comment, spooman!

• United States
11 Dec 06
Friends with benefits is the right Title. He isnt ready so you shouldnt push it. You are so much better then that. Whats crazy is when your not availible he is gonna want you. It works like that all the time. Just watch, your gonna get a good one...

• Philippines
11 Dec 06
tnx 4 ur comment. i think u're right, im gonna get a better one. ciao!