real or fake...?

India
December 11, 2006 1:46am CST
Samurai x histroy seeems to be true, is it a real feature flim or just a story?
7 responses

• Philippines
5 Apr 08
fiction. definitely is. but some personalities and characters whom kenshin was based was actually true. some part of him was taken from the legendary samurai Miyamoto Musashi. the setting and period were also real, only the characters and the plot were fictions. but wouldn't it be great if Kenshin was actually real?! lol

• Philippines
27 Nov 07
It is just a story. However, the writer of the series somehow blended it Japan's history. Assassins really existed at that time to eliminate corrupt government officials. :P

• Philippines
16 Jan 07
I love to watch Samurai X but I wasn't able to watch it from the start until the end. I didn't see and cd or dvd available here in my place but I love to start the series until the end because I've been watching it from television but sadly not all the time. I think it is only a story but it is a nice one. Maybe the culture of Japanese from the ancient times is somehow related to it but I am not sure of that. Anyways, I am hoping that I will find a cd or dvd in order for me to finish the series.


• India
24 Dec 06
It is just a story.........but the storyline is set in the time period in thepast that makes the story to be a true life incident but it's cool anyway

• Philippines
17 Jan 07
although himura kenshin is ficitonal, some of the personalities and incidents are real. hitokiris really did exist during the imperial restoration...i think those inspired the series. :)

• Greece
11 Dec 06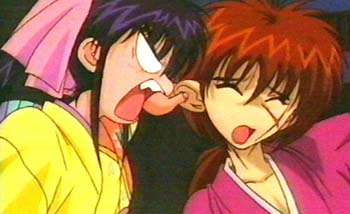 i think it's only story, you know japanese people have a great imagination, they tought to be creative even since they still a child