End of the WORLD in 2012?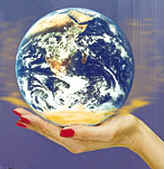 Philippines
December 11, 2006 4:02am CST
Is it true? Can you tell? End of the world in 2012 From: http://www.godrealized.com/2012.html Yes! 2012... this shall be the year of reckoning. 2012 shall be remembered in the history of mankind for ever. Why?From the position of planetary movements and astrological calculations... the significance of number three for the present civilization is immense. The 12th year of the 21st century totals to number three. Here we need to remember that talking of 2012 means... we have already established into the 21st century which numerically totals to three. The 12th year also totals to three. A significant upheaval on the whole shall be the order of the day. Adharma would be rooted out for ever. 2012 and beyond is the period for spiritual elevation. 2012 rings the start of the golden era. Beyond 2012 it shall only be harmony and peace all over. The society would have learnt its lessons. Unethical practices and wanton desires would take a back seat. The lure of money and position would almost cease to exist. It shall be the time when a pot of gold found lying in the backyard would not have any claimant. The glitter of gold and diamonds would be a passé. The spiritual wisdom would become the order of the day. 2012 is the year of sacrifice. Both who have committed a crime and those who have not will be sacrificed. The one who has committed a crime shall face the gallows. Those who believe in upholding the values in the society may lay down their lives for the sake of humanity. The sacrifice by the eminent would be by will. To cleanse the society of its ills in 2012 many would come forward and sacrifice self on the altar of God. Unless this happens the upheaval in the society is just not possible. The blood of the innocent would be spilled. There is no other remedy. Every individual who is found guilty by the society will be done away with outright. The legal laws, the judiciary, the administration and the political setup of the day would not be able to bring a respite to them. 2012 is the year of Florence Nightingale. The dawn of the new era (the golden period) can just not occur without innocents having laid down their lives for the sake of their country.
1 response


• Philippines
11 Dec 06
yeah i agree . . . There are predictions regarding this and a lot of problems occurs. I myselt dont really know what would this be . . .