what are some of your fears (even stupid ones like from childhood)

United States
December 11, 2006 4:33pm CST
i was always afraid of the wicked witch from the wizard of oz
3 responses

• Philippines
12 Dec 06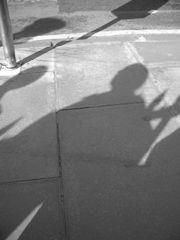 when I was a child think 3 or 4 my greatest fear was to see my own shadow. crazy as it may sounds but this is really my biggest fear. during that time there were frequent brown outs in our area and once the electricity was shut I would shout and freak out running around 'cus I would start seeing my own shadow everywhere and my 4 other siblings would laugh at the maximum level and me very pitiful screaming. But it's all fun to remember those early years of my life.

• United States
12 Dec 06
i always had fun w/ my shadow like you know.... playing with it.... you know...... like it was my friend...... am i the only one?

• United States
12 Dec 06
One of my greatest fears as a child were thunderstorms. I always remember when I'd be watching TV and a tornado or severe thunderstorm bulliten would pop up, and I would always get so scared and just hang onto my parents all night long. What's funny about this fear is now I love to go storm chasing and I love weather and storms. It's funny how things can change as you grow up.

• United States
12 Dec 06
i used to cry and hide in the basement.... i would always fear that my dad "got sucked up" by the tornado"

• United States
11 Dec 06
when I was little, my only real fear was being somewhere with my mother and getting lost..like in a big store or something..I always felt like I would never see her again..

• United States
11 Dec 06
me too. one time lost in meijer. i also had a fear of being locked in stores at closing time. if they announced they were closing i would beg my mom to leave even cry