Inappropriate baby shower for second pregnancy.

United States
December 11, 2006 10:41pm CST
Baby showers (and bridal showers) are a great way to help a friend or relative prepare for a new baby (or new home). But it used to be done ONLY for the first baby (or the first marriage). Nowadays, it seems women are expecting baby showers for EACH baby (and EACH marriage). I think it is tacky but maybe I am in the minority. What do you think and why? Are the second showers okay or inappropriate?
3 responses

• United States
17 Dec 06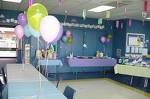 You are right we had baby and bridle showers for the first baby to help out the family get started. The second child was expected to use hand me downs. I do think a celebration shower for each new baby would be ok though. As for bridle showers I would go for the first one only and only if the couple had not been living together. If they have been living together they would have every thing they need. In this case also could be a celebration instead of a shower and no gifts. Because the shower is to help the couple get started with so many it dose seem like they want a lot of gifts


• United States
12 Dec 06
I know it is common practice nowadays to have a shower for each baby. That is a new thing and it used to be done ONLY for the first baby. We felt the shower is not for the baby...it is for the mother-to-be, who needs supplies for the baby. A change of times I suppose. Just seems like people grabbing for gifts, to me.

• United States
3 Jan 07
Most of the things given at the baby showers are things for baby but also helps relieve stress from momma. Things like clothes, bottles blankets etc. things that are needed to take care of the baby. Bridal showers are to help the bride create a home with her new husband.