How many ways are there to out the batsman?


India
December 12, 2006 3:03am CST
here comes another intresting discussion for u all how many ways can be there to out the bats man?
7 responses

• India
12 Dec 06
there are 7 ways to get batsman out: 1.Run-out 2.Bowled 3.Caught 4.Leg Before 5.Hit wicket 6.Handling the ball 7.Stumped

• India
14 Dec 06
there are two other ways.... 8.Batsman has been given some time to be in the feild after a wicket falls.if he doesnt reach by that time then he is declared out.so thats not a way to get him out....but he himselfs get out. 9.changing positions in feild-he ll not be out but he will be out of game.so thats a way to get him out but still not literally he ll be out by ball.

• India
13 Dec 06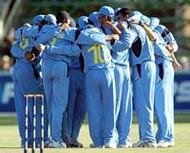 there are 10 ways a batsman can get out Caught Bowled Leg before wicket (LBW) run out Stumped Hit wicket Handled the ball Hit the ball twice Obstructing the field timed out