Online vs. Writin

United States
September 20, 2006 9:50am CST
Do you keep a Journal? If so do you keep an online journal or a writen one?
3 responses

• United States
15 Nov 06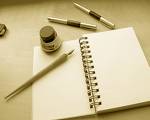 I kept a written journal for many many years. I was constantly writing in my journal. When I took breaks at work, I would write in my journal. I would even draw in my journal or glue news articles that effected me somehow....or even song lyrics! But over the years, my partner refused to leave my journal alone. Because I would also write when I was upset venting. I even hid my journal and didn't let him know I was writing in one....but he found it one day and had to read the entire thing. Its not as if there was anything in my journal that I wouldn't discuss with him....but it was mine and I felt violated. Hence, over the last 6 years, I have barely written in my journal. As for keeing a BLOG or online journal...it is not as gratifying.

• United States
16 Nov 06
Agreed Tia. It is indeed gratifying. Describe your journal to me. I order mine from a company that gets them from Napal. They make their own paper, they are pretty cool. The paper takes the ink really well too. Sorry for all the trouble you've had. You should stop writting though. Keep going!

• United States
16 Nov 06
I have had many different types. Currently, the one that has not been finished....it has this paper that is almost like construction paper but more sturdy. It also takes ink well. I have never seen one like this before. The cover is very unique also. It is hard cover...of course, has to be...but the front is covered in beads that create a stars and moon scene. Very pretty. I ususally select journals for what depicts my life at the time. Once I picked this journal that had a baby bent over with his/her head on the stair. As if the baby did not want to deal with the world. It was cute and fit me at the time. I have considered printing up some of my responses I have posted here to get me back into writing. But I just hate it when my book ends up in others hands. I don't know. Do you only write in your journal?

• United States
16 Nov 06
Do I only write in my journals? No! Thanks for asking Tia. I draw in them and color in them...doodle if you will. I also make entries in my journal at all different angles. Not just line under line, like you were reading a book. I write all over the place. Some pages you can only keep order of the posts because I date them. Then there are pages that only have one line written on them. My journals of choice are soft sided. I only use one style, but he have different colored covers. They are flexible to a point. They also have a stretchable band that wraps around them and can be used as a bookmark. They are about 11 inches tall and 9 inches wide. 150 pages or so.



• United States
16 Nov 06
I keep both an online journal and an offline one, but the offline one is not written (it's just private). My online journal is my blog, the link is in my profile.