Confetti and Balloons


Australia
December 13, 2006 2:45am CST
I was told the other day that most wedding places don not let people throw confetti any more that in these days of enviroment protect its just not the right thing to do But then from Weddings, celebrations especially Government departments, sporting events see nothing wrong with letting balloons fly sometimes hundreds at a time.... where do they think these balloons end up.... exactly the same place plastic bags end up, in the oceans and in the bellys of out marine life. What do you think about this new fad.
5 responses

• Australia
22 Dec 06
I went to a wedding a few years ago,the couple were married in the gardens of the place where they bhad their reception and the staff came around and handed everyone little bags of enviromentally friendly confetti ,we were also told that the birds could eat it safely. It has been quite a few years now that canfetti has been banned and i agree with one of your other responses that it is the mess that it makes,but gosh the churches charge enough i think they could clean up a bit of confetti. You have a very good point about the ballons ,i have never thought about that before but i will in the future

• Australia
22 Dec 06
I never thought about confetti being harmful to birds see we learn a lot on here...this place is educational.

• Philippines
22 Dec 06
i never thought that government could care about confetti being thrown on weddings, because most of these places are private and will be cleaned by the rented place and i don't think goverment will do the honor of cleaning it for the couple. i wonder where balloons go too...

• Australia
22 Dec 06
Balloons can end up in the same place plastic bags do in the bellies of out beautiful marine life.

• Australia
21 Dec 06
I have great difficulty understanding the need for all these balloons to be let go (and where they eventually end up) My daughter is getting married on the beach next year, and I have been drying my rose petals to use on the day, but it will be used only on the grass area and that is fair enough! But there are rules that don't make sense to me as the balloon "letting go" is doing more damage than good and yet it still continues. My other query would be what are all these fireworks doing, are they a concern as well?

• Australia
21 Dec 06
I agree with you on everything you have said, rose petals sounds good, and don't get me started on fire works, what a waste of money, that is a lot of money they waste on them every year, same old same old.

• Australia
21 Dec 06
I was told you couldnt throw it because it made to much mess. maybe people should throw it when they leave the recepition. goverment only care about them self anyways.

• Australia
21 Dec 06
Yeh I thought the reason they didn't like people throwing it was because of the mess but confetti just blows away, I thought it looked nice.

• United States
21 Dec 06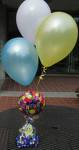 im glad people are actually thinking about it and they arent throwing confetti and rice at weddings because it kills the birds. now they throw bird seed. now why they never stopped think about balloons and such is beyond me. im not sure what could be used to decorate that is safe in place of balloons...

• Australia
21 Dec 06
I didn't know about killing the birds, I have never heard of this, I am very interested to hear more on this thank you.