Recycling? What do you recycle?

United States
December 13, 2006 9:54am CST
I'm always on the lookout for clever recycling ideas. I'd be please to know of yours. Thank you!
4 responses

• United States
13 Dec 06
Have you looked into freecycle? They are a great non profit organization that is on the web in local area's you can post there items that you no longer need or use, and someone who needs them will come and pick them up. I love freecycle, I am forever posting there:) Helps to keep the landfills to a minimum.

• United States
13 Dec 06
Yea! Great site, but I like the interaction here. Thanks for the input.


•
13 Dec 06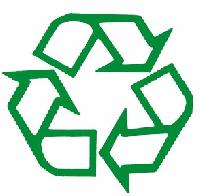 In England, our local council gave us a green bin, in which we put paper, plastics and cans. They also gave us a blue smaller bin, which we put glass bottles in. So maybe you could get a couple bins like this, put the same stuff in them and then take them every other week to a recycling depo. You can also recycle garden waste (leaves, grass, sticks) and tery not to throw old clothes out, give them to thrift stores or chairty shops. ----------------------------------------------------------- Please check out - http://www.videogeezer.com

• Sweden
13 Dec 06

good question. i recycle used plastic bags. i can have them as my next trash bag or i can use them when i needed to place something in it to keep it fresh and clean. my mom recycles old newspapers. she uses it when she's having her mangoes (she runs a mango farm) wrapped to avoid apids attack. i recycle old bottles and save them for future use. my clothes are recycled, too.. i mean, some of them. when i have old clothes and i feel that i don't want to wear them anymore, i do something new in it. i sew beads on my blouse, if it's a tshirt, i remove the sleeves and turn it to sleeveless blouses. what i do with my skirts are.. if they are long, i cut them short after sometime. if they are short skits, when i'm used to their looks, i sew some ruffles at the end of the skirt. ...