what is meant by sungod??

India
December 13, 2006 10:51am CST
1 response

• United States
13 Dec 06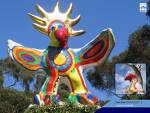 There could be a couple answers to this question, depending on what you're asking. 1) Sun God is a statue by French sculptor Niki de Saint Phalle located on the campus of the University of California, San Diego. The statue is a 14-foot multicolored bird-like creature, perched atop a 15-foot-tall horseshoe-shaped rock pedestal. 2) Apollo, the Sun god, brings life-giving heat and light to Earth. 3) Ancient Egyptians worshipped the sun as a god throughout their recorded history. A variety of deities—including Ra, or Re, Amun, and the combined Amun-Re—manifested different aspects of the solar orb. But the radical Pharaoh Akhenaten, who ruled the country from 1353 B.C. to 1336 B.C., elevated one god, Aten, the embodiment of the sun's radiating warmth, to a nearly exclusive position.