Has anyone else experienced this?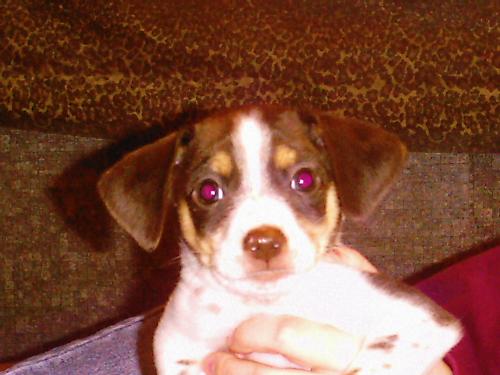 United States
December 13, 2006 9:04pm CST
My dog, the one in my avatar is addicted to ice cubes. It all started about a week ago when I accidentally dropped one and he picked it up like all dogs do. Well since then everytime I go to get ice my little dog scurries right to my side and stares at mee untill I give him a chunk of ice! If I do not give him one he demands it vocally. Has this ever happened to anyone else, or is my dog just crazy?!? I mean, ice has no flavor, no taste, hard texture (he crunches it till it is gone then wants another), it is cold (he freezes his little butt off and has to jump in bed under the blankets since he cannot stop shivering). I guess I just do not understand. It is cold here in Michigan so it cannot be that he needs to cool down.
4 responses

• United States
14 Dec 06
Nope, your isn't crazy. Mine do it too. I discovered this during the summer when it was really hot. I put ice cubes in their water to help keep it cold. Well, they ended up eating them all. Mine don't seem to eat them in the winter but then again, I don't put ice in their water.

• United States
14 Dec 06
I put them in his water in the summer and he ate them then but I thought that was because it was hot, but man it is the wintertime, what is he thinking?!? It cannot be comfortble since he looks so pitiful when he is all cold and shivering. I just do not understand?!? Thank you for the post and for the reassurance that atleast in the summer my dog is not crazy!!

• United States
14 Dec 06
I'm almost certain mine would eat them now if I gave it to them. But I hardly ever use ice cubes in the winter. I'll have to try it now.lol

• United States
14 Dec 06
It is curiosity that killed the cat so I guess it is a great thing they are dogs!!! Let mee know what you find out, I am very curious. Once again thank you for the post!!


• United States
31 Dec 06
My dogs love ice cubes too! My KC dog likes them more in the summer than the winter. I guess it is because she gets cold easily. She has a very thin coat. But my partner likes to chew his ice. And if she sees him eating ice, she will stare at him until he shares. If he still refuses, she will nudge his glass to get the point across to him that she wants the ice that he is chewing on. Of course, maybe she likes what is chews on better because they are smaller pieces. However, my basset hound just loves ice. I did the same thing that happened to you. I was getting some ice and I dropped one. He thought it was the best thing! So now, just like your dog, he follows me into the kitchen and hopes that I will give him a piece of ice. :)

• United States
31 Dec 06
them dogs, you got to love them. Just tonight my family just got bigger. Our dog, Ami just had 7 puppies so once again our house will be filled with the little yappers, which is fine by mee since I love nothing more than that puppy breath. I am glad to see that my Stewie is not so weird afterall, just a little psycho, which is normal around here. Thank you for the post and have a very Happy New Year!!

• United States
31 Dec 06
Congrats on the seven puppies!!! Is that why you were up so late last night? Or are you an early riser? I suffer from insonmia, so I didn't expect a response coming an hour after I posted. Wow! Seven puppies! My popcorn buddy, Misty, had seven puppies long time ago. It was so much fun with that many little pups running around and playing. My kids loved it! I hope the mama is doing well! Happy New Year to you too. :)

• United States
1 Jan 07
thank you for the response! Yes Ami is doing alright and I was misinformed since it was only 6 not 7... 5boys and 1 girl. No I am usually up all night with PTSD. I will put a pic in my profile for you to see the pups, they are soooo small, even smaller han the last batch. Thank you once again.

• India
31 Dec 06
i think he thinks it to be fun.he finds it interesting to find something hard dissolve in his mouth.its a game for him,i guess.he likes playing it.so let it be cold or hot he likes playing it.and thinks it entertains you even if he feels cold he likes doing it for your pleasure.i think this is the logic behind it.

• United States
1 Jan 07
This is a true possibility witht he exception that ther are several other dogs that do the same thing. But it is still a possibility!! Thank you for the post and HAPPY NEW YEAR!!

• United States
1 Jan 07
Ana, my retarded black lab, LOVES LOVES LOVES ice cubes! We will put them in the dog's water bowl in the summer time when it's hot. She sticks her head in the water to fish them out so deeply that she comes out snorting water! It's insane! She even follows me to the freezer if she thinks I'm getting ice. Funny little girl. I just love her! lol