what are the benifts of swimming?

India
December 14, 2006 7:15am CST
what are the benifts of swimming?
2 responses

• Philippines
14 Dec 06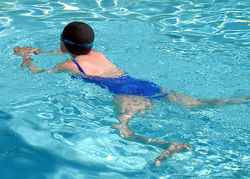 Swimming is an excellent form of exercise. Because the density of the human body is approximately similar to that of water, the body is supported by the water and less stress is therefore placed on joints and bones. Therefore, swimming is frequently used as an exercise in rehabilitation after injuries or for those with disabilities. Resistance swimming is one form of swimming exercise. It is done either for training purposes, to hold the swimmer in place for stroke analysis, or to enable swimming in a confined space for athletic or therapeutic reasons. Resistance swimming can be done either against a stream of moving water (often termed a swimming machine) or by holding the swimmer stationary with elastic attachments. Swimming is primarily an aerobic exercise due to the long exercise time, requiring a constant oxygen supply to the muscles, except for short sprints where the muscles work anaerobically. As with most aerobic exercise it is believed to reduce the harmful effects of stress.