Friend OR Lover, Who is best?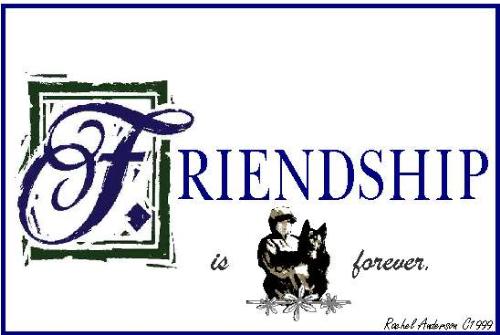 India
December 14, 2006 8:02am CST
When we talk about Lover and Friend, Freind is the best one. There may be some people who says lover is great. According to me Friendship will not be comparable to anything in the world. Friendship will be with us for ever, whereas love will be for a limited period to a particular person. Friendship or love both will be a bond between two persons. Friendship is Permanent bond, whereas Love is Temperory bond.
7 responses

• India
21 Dec 06
friend.love hurts you but not friendship

• India
21 Dec 06
I think that friend is the best coz its the person who always care through out the whole life

• India
20 Dec 06
love is the best thing according to me.i had many frnds but none share my sorrow .it is my lover who shares & cheer me . love has unique place in my heart.

• India
21 Dec 06
Thats nice arti, its your lover who shares your sorrows. I wish you to get such type of friends in future.

• India
14 Dec 06
I do not know what love is , I also do not know what friend is ?? When you marry, you can neither make love nor boy friend/ girl friend. To marry is a work(karma), neither Friend nor Love is Karma. Friend is a memory, Love is awareness of God, through Puja(Puja Karma) Thanks

• India
21 Dec 06
Thanks for responding. Its very interesting to read your response. you had expalained it in a passionate way.

• Pakistan
14 Dec 06
wat a silly question obviously yaar... Frndship has no comparison wid dis Love thing... in frndship pne feels comfortable nd can share everything whereas in love u can share each nd everything ..caz u hav a fear of being alone

• India
21 Dec 06
You are correct, friendship has no camparision. But i saw some people, who said love is best.


• India
14 Dec 06
According to me friendship is the one I will choose if i have to between friend and love.A friend can always understand u and supports u even when u are in love and going agaist someone in love.But it is not the case in love,the person u love will not think and support u in all situations.Sometimes love even demands to leave ur friend.But a friend never demands anything in return for the friendship.love sometimes demands to break ur relationship with ur parents and dear one's but friend is not that way,even when u are in such situation he helps u,even when ur are wrong.A friend forgives ur mistakes easily,but a love cannot.A friend never think about the consequences when u ask for any help,but a love always have some contraints. There are very less love birds who's relationship will be even more better than a friendship..Wish I will get one such girl for me who is no less than a friend for me.