Have you visited Sri lanka?

Sri Lanka
December 14, 2006 7:24pm CST
Have you visited Sri Lanka? If so, when & what was your most interested place?
4 responses

• Australia
15 Dec 06
i have not visited Srilanka yet but we r planning to visit it next year. I think it's a good place.

• Sri Lanka
17 Dec 06
Hi, nice to hear that you will visit next year. If you need any help during your tour or with planning your vacation ; dont hesitate to contact me by e-mail: travelsri
@gmail
.com

• India
15 Dec 06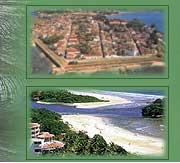 Ambalangoda-situated near the famous resort of Bentota-is 86 km from Colombo. Ambalangoda has a beautiful white sandy beach. The town is famous as the home of devil dancing and mask making. Devil dancing is an important part of the culture of Sri Lanka. Colorful masks worn during traditional dance are carved out of soft wood and brightly painted. Handloom products such as batiks and hand-woven cottons are also found here.

• Canada
15 Dec 06
I was born in India but never visited Sri Lanka. I would love to visit Sri Lanka because everyone tells me its an awesome place. If you liked my post, press the "+" button to the right of this post. Thanks!

• United States
15 Dec 06
oops sorry, never visited sri lanka but i have heard there r many good places there