Did u like Princess Diana? if yes Wat did u like about her?

Australia
December 14, 2006 7:47pm CST
Princess Diana was a beautiful women. I liked her very much for her socialness and her down-to-earth behaviour. She will always be remembered.Wat about u?
8 responses

• Canada
15 Dec 06
I liked her for her behaviour too. She was a great woman, r.i.p. If you liked my post, press the "+" button to the right of this post. Thanks!

• India
15 Dec 06
She was one of the great women ever lived.I liked her a lot.Her socialness was very well accepted by everyone.Thats the main thing i like about her too.

• Greece
23 Dec 06
She was a gentle soul and she was loving all people around the world, no matter the race, the colour, the financial standards, the diseases. She adored kids. She was always smiling and she was always giving hope. God Rest Her Soul!

• Canada
22 Dec 06
i agree and the most important thing she was so much generous.

• Hyderabad, India
22 Dec 06
thanks for give good information about her


• India
15 Dec 06
hi ya I like her very much, she is a very good personality. Also I like her social activity.

• Philippines
15 Dec 06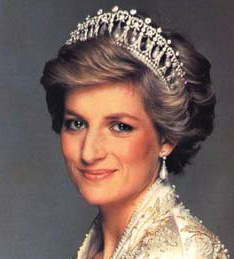 the Princess of Wales became well known for her support of charity projects. This stemmed naturally from her role as Princess of Wales -- she was expected to engage in hospital visiting and the comforting of the sick and to assume the patronage of a variety of charitable organizations -- and from a personal interest in certain illnesses and areas. Owing to PR efforts in which she agreed to appear as a figurehead, Diana is credited with influence in the campaign against the use of landmines and with helping to decrease discrimination against victims of AIDS.