do you have freckles?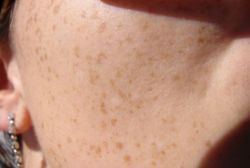 Philippines
December 14, 2006 9:56pm CST
Freckles are small tan spots of melanin on the skin of people with fair complexions. Having freckles is genetic and is related to the presence of the melanocortin-1 receptor MC1R gene variant. Freckling can also be triggered by long exposure to sunlight, such as suntanning. When the sun's rays penetrate the skin, they activate melanocytes which can cause freckles to become darker and more numerous, although the distribution of melanin is not the same. Fair hair such as blonde, or more commonly red hair, are usually common with the genetic factor of freckles, but none so much as fair or pale skin. -- wikipedia luckily i dont have. how bout you guys?
4 responses

• United States
15 Dec 06
i do have a few freckles but not that many.i always heard those were angel kisses.lol

• Philippines
27 Feb 07
i have slightly brown spot on my both cheeks as a result of sun exposure while i am using astringent. and the effect is permanent, but it lighten a bit because i am using sunblock and vit.e


• United States
26 Jan 07
i dont have it but one of my frnds in coll ahd it... she was very fair but thr were many brown spots all arnd her face esp dense over cheeks n nose