NON VEG COOKING??

India
December 16, 2006 5:06am CST
im a foody and a nonvegetarian im new to cooking and want to try with a chicken item andhra style only plz suggest me thank u all
2 responses

• India
16 Dec 06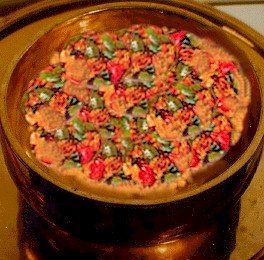 Indian chicken curries seem to be popular all over the world. Here are 6 classic regional favorites. Every region in India has there own version of curry or chicken cooked with gravy. Curries sometimes take long to make and you need many spices at hand. Many of us use pre mixed Indian spices and also pre made Indian spice pastes which are available in our store. It makes Indian cooking fun and convenient and it is easy to enjoy spice blends that are blended for specific dishes. Here I have listed recipes that can be made from scratch. Enjoy the selections. Chicken Curry from the Indian State of Kerala Ingredients: Chicken- 2 Lbs. (wash & cut into pieces) Fresh green peas or green and red bellpepper- 1/4 cup Carrot- 1 (cut into thin strips) Small baby potatoes- 7 boiled and peeled Onions- 2 (chopped) Grated ginger- 1.5 inch piece Garlic- 6 cloves (chopped) Green chilies- 3 Coconut milk- 1 1/2 cups - Spices - Cinnamon- 1 piece Bay leaves- 2 Cloves- 2 Black peppercorns- 1 tsp. Turmeric powder- 1/2 tsp. Garam masala powder- 1/4 tsp. Mustard seeds- 1/2 tsp. Ghee- 2 tablespoons Oil- 2 tablespoons A bunch of curry leaves (optional) Salt to taste Method: 1. Grind the ginger, peppercorns, turmeric powder, onions and green chilies to make a coarse paste. 2. Heat oil and ghee in a large pan and add mustard seeds. When it pops add cinnamon, bay leaves & cloves. When it turns brown add garlic and curry leaves. 3. After a few seconds add the onion, ginger and chili paste. Fry for a couple of minutes. Then add the chicken pieces and fry. Add potatoes, carrots, garam masala and salt. 4. Cover the pan and cook for 5 minutes. 5. Then pour the coconut milk and add the green peas. Cover and cook until the chicken is fully cooked.

• United States
18 Dec 06
You can try to fry the chicken or bake it.