It just steams me when people don't know how to set the table properly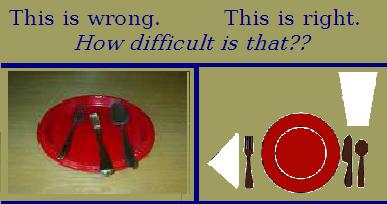 Canada
December 16, 2006 3:56pm CST
I'm not talking about fancy tables with five forks and three knives and four spoons. I am juat talking about an everyday setting for a normal meal. When I was a very young child, my mother taught me how to properly set a table for a simple family meal, with the fork to the left of the plate, sitting beside a napkin. To the right of the plate is the knife and to the right of that is the spoon. Soup spoon can either go across the top of the plate or under the plate with the bowl of the spoon sitting to the left end. Or it can go between the knife and the teaspoon. The drinking glass or tea or coffecup should be set near the top of the knife. Of course any portion of this can exist or not exist depending on the meal One thing that totally steams me, is when I go somewhere, even to a casual meal like a church potluck supper, and the table is improperly set like with all the utensils just "thrown" in a group together on the plate or to one side of it. What really aggravates me is seeing a fork on the right and a knife on the left!!
2 responses


• United States
17 Dec 06
Can I ask what the big deal is? Maybe it's just me, but I really don't care how it's set up. As long as the utensils are there and clean, that's all that matters to me. Of course, I didn't grow up in a house where the placement of utensils was taught to me. *shrugs*

• Canada
18 Dec 06
It's true, some people just don't care. It is a difference in how you are brought up. That doesn't mean some of us are wrong and some of us are right. It just means we're different. You know what that means? That means if table setters celebrate a special holiday where they hang up forks and knifes from the mall ceiling and wish each other Happy Flatware Day, then they should expect by all means to be persecuted by non table setters who hang up unwrapped foodstuffs and wish each other Happy Finger Food Day. Now, let's you and I sit back and see how many people see some sort of a weird parallel here.