Raffle Tickets

South Africa
December 16, 2006 6:29pm CST
Apart from the usual raffle tickets the schools sell, how many of you buy raffle tickets from people, and do you ever hear of the winner? I have bought a few raffle tickets in the past, but have no idea who won the main prize. It is starting to make me wonder. Don't think I will be buying more in the future.
2 responses

• United States
17 Dec 06
The last time I bought a raffle ticket from someone other than a school, I had 1 dollar on me and thought nothing about winning. A few weeks later I got a 500 gift certificate to Carrol's Jewelry, needless to say this made the wife extremely happy and me a lucky guy.

• United States
17 Dec 06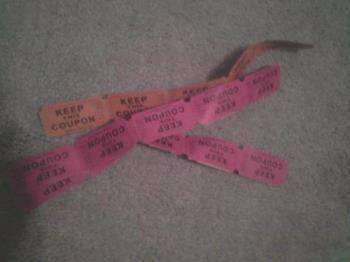 I buy raffle tickets at my bowling league every friday night and have not won ever. They always announce the winner later that evening so I am there to hear it. Raffles outside of bowling I too never hear who actually wins so I assume that I did not win.