Killing credit card debt

Philippines
December 17, 2006 7:34pm CST
I have like $4000 in debt due to credit card companies. I accumulated this from 8 credit cards. I'm now down to 6 cards, which I haven't used lately. I plan to maintain only 1 as soon as pay my debt in full. How do you go about killing credit card debt? Any tips?
7 responses

• Philippines
18 Dec 06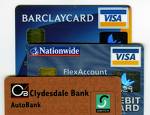 Dont spend MORE than you earn, this is the first and foremost problems with credit card users, of course, how do you expect to pay a $4,000 debt if you only make $2,000 a month (you still have to part the money to your living allowance that includes food/fare/clothing/electricity/water/insurance/apartment, family expenses -good if your single but what if you've got kid/s, etc. Second, use it only or ok, most of the time to purchase the things that you NEED. Third, do not pay on minimum (I think you already know why) and be PROMPT in payment to avoid penalty and other surcharges brought about by late payment. Lastly, pay off first the credit card that has the highest interest rate and when your through paying with it, have that credit account CLOSED.

• Philippines
19 Dec 06
Yup, after years of using credit cards I just realized that I do need to stop spending more than I earn. Took me seven years to realize that, OUCH!!

• United States
18 Dec 06
1) Look at the interest rates for each card. 2) Pick the one with the lowest rate as your keeper. 3) Cut up the rest of the cards. 4) Pay whatever extra you can on the card with the highest rate, while still making the minimum payments on the others. 5) As you finish off the payments on the card with the highest rate, continue that payment trend with the next card remaining with the highest rate while still paying minimums on the rest (repeat 4/5 until all cards except your last one are paid off). Don't get anymore cards. Avoid the trap of store credit cards. 10% off your first purchase will not be worth the interest that you are paying now... Some people might suggest that you try to find a card with an introductory 0% on balance transfers. I'm assuming that if you had balances 8 cards at the same time, you're not going to get that high of a limit on a new card. Plus, added more lines of credit will make your credit look very unbalanced. To be honest, I would close down most of these accounts once you have paid them off except the one you are keeping that has the best rate and probably the card that is the oldest (keep this one open just for the sake of having an account that has been open for a long time, which helps credit scores). It sounds like you are on the right track though. Good luck with getting your financial situation back under control.

• Philippines
19 Dec 06
Thanks for replying. On #1: There are a handful of credit cards here in the Philippines. Most have the same interest rates, at 3.5% per month (WOW). Of the 6 or 7 cards I own, only one is below 3%. Lately, there is a surge of cards offering less than 3% interest rate. On #3: Yup, I did cut the rest of the cards that I have. It was like, freedom!!! On #4: Yup, all change I got from my transactions goes to a coin purse. I then add them up at month's end and use them as additional money to pay for my credit card bill. On #5: Thanks so much for this, I really hope I'd be able to resist getting those pre-approved cards. I just intend to keep one that offers payback rebates for my purchases. Yup, thanks to our bonuses, I'd be able to pay off these debts. I really hope to be debt free by next year. THanks again.


• Philippines
19 Dec 06
That's a plus for me. I've relegated my existing credit card inside my cabinet. The others...I just had to cut them..:) Thanks for replying.

• Philippines
23 Dec 06
We are on the same boat. I did stop using my credit card and even ask them to close down my account so that the other charges would lessen my burden. Credit Cards are killing me. :) hopefully i could finish paying off those cards in the soonest possible time and i promise to myself that i wont get credit cards anymore. I'll just spend whatever i have on my pocket.

• Indonesia
19 Dec 06
There isnt any step by step rules how to solve this. but you have to do it mostly at the same time, like cut your spending, dont use any more cards, etc (as mentioned previously by others). If I may suggest, you can try to find a new credit from bank (I know it seems does not solve the problem) which has lower interest rate. Credit card usually charge much higher rate, as we all know, than normal credit. Good luck!!!


• United States
18 Dec 06
I can share you some tips at my page. Look for my discussion with a subject cash or credit. I dont have credit cards and no plans using it. I see a lot of people suffer with same problems about their credits.