Bush OKs nuke deal with India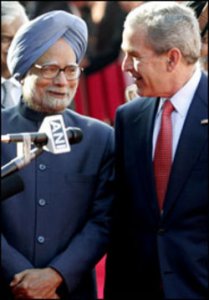 United States
December 18, 2006 2:03pm CST
President Bush on Monday signed a civilian nuclear deal with India, allowing fuel and know-how to be shipped to the world's largest democracy even though it has not submitted to full international inspections."The bill will help keep America safe by paving the way for India to join the global effort to stop the spread of nuclear weapons," Bush said. The bill carves out an exemption in U.S. law to allow civilian nuclear trade with India in exchange for Indian safeguards and inspections at its 14 civilian nuclear plants. Eight military plants, however, would remain off-limits. The White House said India was unique because it had protected its nuclear technology and not been a proliferator. The Bush administration said the pact deepens ties with a democratic Asian power, but was not designed as a counterweight to the rising power of China. I don't know how good of an idea this is. Pakistan is sure to react badly to this.. this could very well throw all of Asia into an even worse arms race. I'm sure this is an attempt at curbing India's nuclear activities but I doubt that will actually happen. Plus, how favoritist does this look? Are we allowing this only because of India's growing power (and consumption of U.S. goods) or is it also because India happens to be the worlds largest democracy?
3 responses

• United States
18 Dec 06
I am amazed he hasn;t given the whole country away yet to further his ideals, or get what he wants for himself. I didn't vote for him & I do not support any of his ideals. I think he is a waste of time & energy.

• India
20 Dec 06
he is asmart guyy he must be planning something in ittt

• United States
18 Dec 06
You're forgetting that India and Pakistan both already have nuclear weapons, they jsut weren't part of the official group of responsible nuclear weapons holders. Besides, Pakistan supports and harbors terrorism and has a major problem with selling nuclear secrets.