Money Problems are the highest contributing factor to DEPRESSION

Australia
December 18, 2006 2:50pm CST
Thats my experience anyway. I've been off my medication for a month now, but all these financial problems are draining me and I feel like jumoing off a bridge again. Oh joy. What do you find most triggers your bouts of depression, if anything? Soemtimes nothing sets me off...
8 responses

• India
18 Dec 06
yes you are right mam. In todays world, money is most Imp part of life. I know is not everything in life but it is very much in life

•
22 Dec 06
I find that general boredom/lonliness is what does it for me, its not because I dont have anyhting to do, I have endess amounts of work for my A levels, but I really struggle to find motivation. I have a good friend who moved to mexico, because he was really struggleing to make ends meet here in England, but he has found no sucess there, apart from everything being cheaper. He suffers from depression and I would not be surprised if his faliure to make money was a major factor. He is not stupid, infact he is very clever, he has just got a PHD from Cambridge, but he stuggles with the things we would find easy.

• United States
22 Dec 06
i'm fine until i realize there are a big pile of bills to pay that we can't afford, etc. what really got me is that this is my sons first christmas and we couldn't afford to get him anything. we are not having christmas at all this year. it breaks my heart.

• United States
22 Dec 06
I feel so, depression arise from many reason, but if it generate from want of money, it never redeem until money can be arranged. Money is such a think that none give it to other without benefit. Ofcourse arranging money from a legal and cute way is hard but from corruption, robbery by a man is easy for a woman dark way is easy. Do think I mean to you - this is a general example.


• India
19 Dec 06
yes, i fully agree to that money problems are the highest contributing factor to depression. There are no if and buts in it. I and my family havve experienced such things in past which is a real forgettable experience for me.

• India
19 Dec 06
Dear, money or financial problems is that is draining you. You should first realise that it is your own belief that is making going into depression. First we should change our belief systems. Try to spend most of your time with positive attitude people Negative thinking always attracts bad events.So try to be scrap them. Start a new life with all your energy to get a new solution and enjoy the results. You know Thomson Eddison failed a thousand times inventing an electic bulb. If he had stopped in middle we would have not been enjoying today. GOODLUCK.

• Greece
19 Dec 06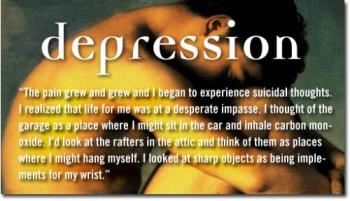 in my opinion, it isn't because of many problem we face. We are blessed by ability to solve problem. I think it's just depend on how we associate that and manage those problem. The key is Mind and point of view. I can say this coz I experience this