Do you like raisins?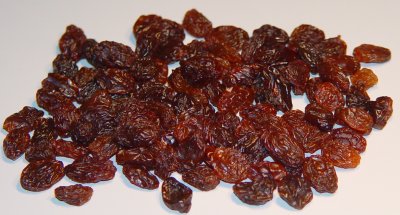 United States
December 18, 2006 4:36pm CST
Raisins are just dried up grapes. Do you like to eat them? They are good for you! I like them, I eat a lot of grapes and I eat a lot of raisins, too! Which do you think tastes better, grapes or raisins?
6 responses

• United States
13 Mar 07
no i don't like them at all. i remember eating them when i was younger, but now i just can't stomach them. the sight of them makes me sick (honestly i can't tell you why i feel that way, but i do)

• United States
19 Mar 07
No worries :) To each his own!


• United States
12 Mar 07
I wish I had some today... :( I didn't bring enough snacks so I ended up buying chinese food from the food vendor even though she and I both know I'm on a diet!


• United States
26 Dec 06
Seems to be the general consensus that grapes are better! But you can't put grapes in breakfast cereal, ha ha! :)


• United States
19 Dec 06
They are dry and not as good as grapes but I think b/c they don't have as much juice in them!

• United States
18 Dec 06
That answered one of my questions :) Glad you like raisins, have a nice day too!

• Romania
13 Mar 07
i like raisins very much because they are so good!