do you like go kart races?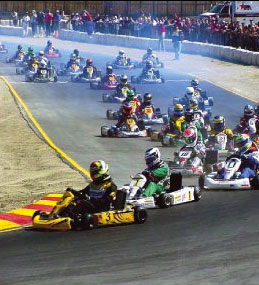 Italy
December 18, 2006 4:57pm CST
5 responses

• Jamaica
12 Aug 09
I love go kart. I wanted to build one from i was little but not even now i cant make one. Dont have the tools. I have race in one though and have won numerous of times. I like to drive the fast ones. Ones with even turbo. I love to drive the manual transmission one it make it seem more real like. !!!!!!!!!!!!GO KART IT IS THE BEST!!!!!!!!!!!!!!!!!!

• Italy
29 Nov 07
yes i like it very much. when i was child i run by them, but now i follow my cousin. He is very good at it, you know, he had run with robert kubica 2 years ago

•
2 Sep 07
ild love to go go-Kart racing but i kant find any wahere i counld go

• Singapore
19 Dec 06
nope, dont race, kart may be safer then car racing, but a certain degree of danger is still there.. Safety First.. haha

•
19 Dec 06
I like to go kart racing, we used to go quite often, but now my sons hobby is racing mini motos. so we watch them instead.