Are Macaws good with children?

India
December 19, 2006 12:52am CST
This would not be a pet for my child but a family pet.
1 response

• India
20 Dec 06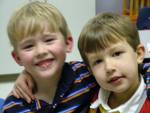 Not a good choice of pet for children. Parrots often bond with one member of the family and will then show aggression to others to protect their "mate." If this happens, you'll never be able to really trust the Macaw with your children. If you're set on getting a bird, a cockatiel is the better choice for families. They're not quite as likely to bond to just one person and are far less aggressive. Find a reputable breeder in your area who can help you think carefully about how suitable a bird is for your family. Good luck!