Have you ever been to Niagara Falls? Tell us about it!

United States
December 19, 2006 8:46am CST
I haven't been there myself, but am very interested in visiting the falls. I lived in Ohio for a few years (am now in Tx) and always intended to make it to Niagara, but it didn't happen. I'd love to hear the impressions of others. Also, if you have any great recommendations about things to do and see in the area, that would be a wonderful bonus!
8 responses

• United States
21 Dec 06
I have been there once. It has been several years but it was beautiful. We were staying with my aunt in New York so it wasn't very far to go to the Falls. We went to see the Christmas lights. We got there right when it was getting dark. They had multicolored lights behind the falls and it was beautiful. I hope to make it there again someday. I would like to go in the daylight so I can actually visit the area.

• United States
22 Dec 06
Thank you for the best response. They have a really big light display for Christmas.


• United States
20 Dec 06
I have been there. It is very beautiful and whoever wants to go there should go there.

• United States
19 Dec 06
I have neve been to Niaga Falls..But ..I do remember that the Three Stooges really had a take on that place in their comedy shows..did you ever see what would happen to "curly" every time someone mentioned: "Niagra Falls"?

• Malinta, Ohio
30 Jan 07
My husband said his favorite part of the Falls was the roar of the water. he said it was deafening.


• United States
23 Mar 07
Awesome! My family on my Father's side live in upstate New York so I have had the pleasure of visiting many times. As I said in one of my posts on the topic, walking along and feeling the immense power of the water is the most amazing feeling. All the "bells and whistles" do not compare to that. Mother Nature in her glory. I was able to take a helicopter ride over the falls and that is breathtaking. They have them all around. Also being a big fan of Hard Rock Cafe's, they have an awesome one there which became part of our ritual. A friend of mine and I went during the "ice festival". Best believe it is cold for us Texans ;-) but they had the most awesoem ice sculptures, an ice maze, I have a pic of my Mom and Dad sitting on an "ice throne". The fireworks over the falls that they do a lot will take your breath away too. I can't think of any downfalls to a nice vacation in the area.

• Canada
18 Mar 07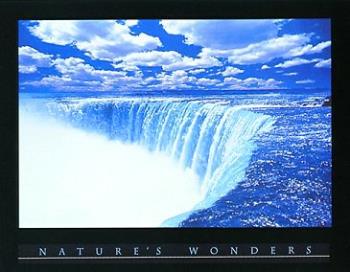 I have been to Niagara Falls twice. Once when I was 3 years old and once when I was 15. I remember going under the falls with rubber boots and big yellow rain coats on, This was on the Canada side, I do not think thay let people go under them any more from what I have heard.