Mythbusters - Do you watch this show?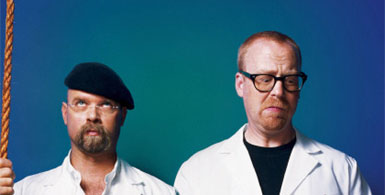 United States
December 19, 2006 5:54pm CST
MythBusters is an American pop science television program on the Discovery Channel starring special effects experts Adam Savage and Jamie Hyneman, who use their skills and expertise to test the validity of various rumors and urban legends in popular culture. The show is narrated by Robert Lee and is filmed primarily in the San Francisco Bay Area. I think it's SOOOO cool! I love it. Some urban legends that have been tested include: Can the unaided human voice shatter glass? ("Breaking Glass") Can a penny dropped from a tall building kill a person at ground level? ("Penny Drop") Is it possible to build a functioning, inconspicuous car ejector seat? ("Mega Movie Myths") Did Ben Franklin's kite experiment really take place? ("Franklin's Kite") Does a duck's quack echo? ("Duck Quack") Can a rotating ceiling fan decapitate a person? ("Ceiling Fan Decapitation") Can diving underwater protect a person from gunfire? ("Bulletproof Water") Is it possible to break off a lock by shooting it with a gun? ("Mega Movie Myths")
7 responses


• United States
19 Dec 06
I don't either, recently, I got rid of my cable b/c I work F/T and am in school and never have time to watch it. But this show is cool, I try to watch it at my friend's houses if I know its coming on.

• United States
17 Jan 07
I love this show I am so glad I saw your post so I can get back in the habit of watching it they have done some of the most incredible stuff I have ever seen!

• United States
17 Jan 07
I love it! :) My fiance was thinking they should do one about how if you leave a battery on concrete it has a negative charge or something like that and it drains your battery. I didn't know what he was talking about though! :( Ooh! I hope you get this message soon b/c there is one on tonight! Airs Next: Discovery at Wednesday 9:00 PM (60 min.) I'm not sure if that's central, eastern, etc., you'll have to check but it's pirate themed, that sounds fun. I don't have cable so you'll have to tell me how it goes!

• Romania
10 Jan 07
yes i watch mythbusters on discovey channel i like it a lot!i watch it almost every day when i have time,it's a very intresting show with adam and jamie...they do experiments,trying to check that some myth's are true or false.anyway a super cool and educative show

• United States
12 Jan 07
They had one the other day where they were trying to conquer the myth that if you drive around in a truck with your tailgate down it improves that it actually makes you LOSE gas mileage.

• United States
8 Jan 07
I think that show is very good. I watch it when I remember it's on. I like how they prove and disprove certain myths that many people believe in. My favorite was "Can you survive behind a car door with bullets flying towards it". The myth was disproven.

• United States
8 Jan 07
I missed that one. But that makes sense, bullets can go through walls, so I'd imagine they could go through a car door.

• United States
8 Jan 07
I've seen a couple of episodes including one where they built a homemade cannon. Another episode was where they tested some type of underground drum alert system to warn of invading armies. Both were neat to watch and it's fun to watch Adam and Jamie interact with their vastly different personalities.

• United States
8 Jan 07
My favorite was the one where they tried to see if you could really stand on a runway while a jet went over you, it was freaky. I liked that one and then also the one where they tested where you could shoot a revolver underwater.

• Romania
8 Jan 07
discovery channel it's my favorite tv program,you can find a lot of new things and at the same time have some fun watching it,shows like brainiac,mythbusters,american chooper and some more...i watch the show when i have spare time i spare my time watching discovery channel all day long

• United States
8 Jan 07
I was talking to a friend the other day about how cable companies should have a plan where you pick 10 channels you like. Mine would be The Weather Channel, Animal Planet, The Discovery Channel, The History Channel, Local News (my town), Kansas City News, Cartoon Network, Comedy Central, and then 2 other ones, not sure which ones.

• United States
16 Jan 07
I use to watch this show before we moved. I loved it. My husband and I would always record it even if we weren't home so we could debate whether or not it was a myth or not. What a great show.