what will b d new 7 WONDERS of d world in 2007?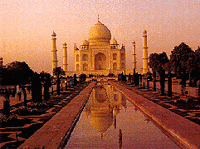 India
December 20, 2006 2:14am CST
The official New 7 Wonders finalist candidates are Acropolis, Athens, Greece; Alhambra, Granada, Spain; Angkor, Cambodia; Chichen Itza, Yucatan, Mexico; Christ Redeemer, Rio de Janeiro, Brazil; Colosseum, Rome, Italy; Easter Island Statues, Chile; Eiffel Tower, Paris, France; Great Wall, China; Hagia Sophia, Istanbul, Turkey; Kyomizu Temple, Kyoto, Japan; Kremlin, Moscow, Russia; Machu Picchu, Peru; Neuschwanstein Castle, Fussen, Germany; Petra, Jordan; Pyramids of Giza, Egypt; Statue of Liberty, New York, USA; Stonehenge, Amesbury, United Kingdom; Sydney Opera House, Australia; Taj Mahal, Agra, India and Timbuktu, Mali. which 7 u think will b selected?
No responses