What was the last random act of kindness done to/for you?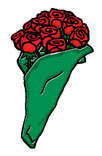 United States
December 20, 2006 12:18pm CST
Suddenly out of the blue, something really, truly wonderful happens- an act of kindness by either a stranger or somebody you know. Something unexpected, for no reason at all. Yesterday I was talking to my husband about how our son's teachers seem really worn down, nearing the holidays. He'd been out of school for a week because of an illness, but was back this week, and I noticed that (coincidentally?) his teachers (some of them) seemed more tired than usual. Could it be him? Was he giving them problems while trying to adjust back into the swing of things? Nobody said anything to make me think that, but I wondered. Today my 4 yo. old daughter and I dropped him off as usual, and were met with a surprise. An offer to let her stay with his class (most of the students are already gone on vacation anyway), to enjoy the last day of school before the Christmas break. And they said it was a gift to me, to enjoy a few hours to myself. I was surprised and grateful. She had a blast, I was able to relax by myself at home, and quite honestly it was the best gift I've been given in quite some time. It was quite touching. I guess they'd been discussing it previously. When I came to pick both kids up, the "lead" teacher gave me a hug and said I was a good mom. :) It's always a nice thing to hear.
2 responses


•
20 Dec 06
Hey, i don't realy have a story to share right now. But i just wanted to say thanks for sharing your story. Not many people take time to remember the nice things that others do for them. And its a refreshing change!