Have fun playing this addictive little game!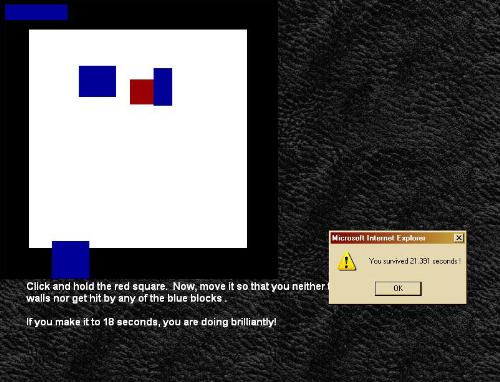 Romania
December 20, 2006 1:40pm CST
I found this funny game while browsing the Internet. I'm sure you'll find it interesting too :) http://www.2dorks.com/atwork/redsquare.htm Let me know what your best score is!
4 responses

• United States
21 Dec 06
I did 7.32. How is that? Awful? Fun though, thanks for sharing it.

• Romania
22 Dec 06
Come on Margie, you're better than this ! Anyway, thanks for sharing your little score :)


• Romania
21 Dec 06
Keep doing it, you'll eventually improve your score... What's your best time by the way?

• Canada
20 Dec 06

Yah that's quite a fun game for sure. I played until i beat you! It only took me about 5 or so times, but it was fun whi9le it lasted...I got just over 22 seconds actually. I will attach a picture to my response here. thank you for showing me that site. I like little games like that!

• Romania
20 Dec 06
Well, i guess we're both good, you a little more than me :) Glad you liked it!

• United States
21 Dec 06
Okay, shall check it out. Will let you know the score...unless I do horrible. Hehhehe.