American hostory X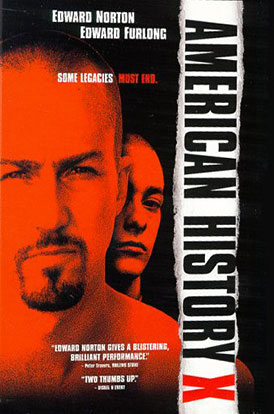 Canada
December 20, 2006 11:49pm CST
Who has seen this movie? Its very intresting. In short its about the Nazi gangs that existed and still exist today in America. It follows one mans life as a well respected member of one of these gangs. Throughout the movie he slowly realizes that his ideal on life and hating other races is wrong and changes his outlook on life. I strongly suggest that you see this movie.
4 responses

• Australia
21 Dec 06
i quite liked it, the ending was sad though i must say

• Canada
21 Dec 06
I know. I wont talk about the ending because it might ruin it for someone. But it was sad. And thank you for responding.

• United States
4 Apr 07
The ending was very important, it showed how he had changed the way he dealt with his troubled life. I also don't want to ruin it for others so I won't post the actual difference.

• Serbia And Montenegro
2 Jan 07
I've seen this movie. I 100% liked it. Ed Norton was superb. I love him for all time. Hehe.

• United States
19 Jul 07
I love this movie, It is a sad reality of life. Even when you do change your past can not only come back and hurt you, but can come back and hurt your family... Sad but true.