how much romantic r u?

India
December 21, 2006 4:08am CST
i love romantic persons. wat abt u?
5 responses


• Sweden
21 Dec 06
i am lucky that my boyfriend is so romantic. i love him the way he is. he is sweet and thoughtful.

• Greece
22 Dec 06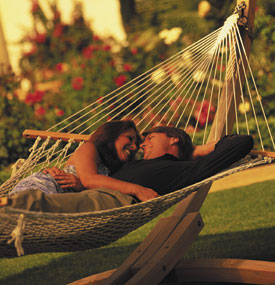 I'm romantic. This is what my friend say to me, even my ex GF told me that i can get any woman i want:D FYI my zodiac is leo

• India
22 Dec 06
i m also a romanitic person. for me love means: 1. life - someone or something for which you would give your life. 2. care - someone or something about which you care more than yourself. In common use, care refers to a mental or emotional state of predisposition in which one has an interest or concern for someone or something. To care for someone, may also refer to a disquieted state of mixed uncertainty, apprehension, and responsibility; or a cause for such anxiety. Caring for an object, such as a house, refers to a state of attendant maintenance; or may also refer to a state of charge or supervision, as in under a doctor's care. 3. friendship - favoured interpersonal associations or relationships. 4. union - dissolution of loving subject into loved object; a hyper-real state of creative generosity. 5. family - people related via common ancestry. 6. bond - the inner connection when another person is a part of your identity. When you start feeling like giving your everything to one, it is called love. You can care for too many peoples but you cant love them. love is when you can't be without a certain someone. not just that, but you can also feel love for your friends too. their feelings matter to you, because you love them, and you feel sadness when they feel sadness. you're willing to sacrifice yourself when it comes to love. love is a quality that makes a human, well... human. and yet like God, because when you love, you can understand God's love for us. it's just one huge concept.