will shane warne's retirement make a great impact in australians!

India
December 21, 2006 8:03am CST
we alll know abt warne -a good spinner and he one of my favourites! i like to ur comments!
6 responses

•
21 Dec 06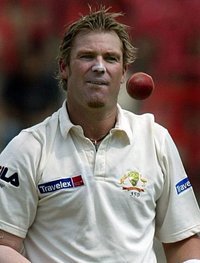 I like Warne as a player and a man, even though he's just helped to destroy England in the ashes, he is as the record shows one of THE greatest players ever.


• Pakistan
21 Dec 06
Ya, you r right Shane warne certainly a great spin bowler But on the other hand it is great chance for Mc Gill to come back in Australian cricket team

• India
21 Dec 06
I think not really, the team does not depend on a single person and this is their great strength! Shane warne, is sure a legend but a team like australia wont miss him much!

•
21 Dec 06
Just read the news - you're ahead of me. So he is retiring!!!

•
21 Dec 06
If he goes (maybe you've heard new news I haven't) then of course it will be a blow for Australia. If McGrath goes at the same time, you're leaving Lee propping up a youthful and inexperienced attack, albeit one which is full of talent. Lee is a great bowler, but lacks McGrath's consistency. Maybe it's a chance for the rest of the world to catch up?