White Christmas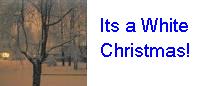 United States
December 21, 2006 8:01pm CST
Do you usually have a white christmas? Are you expecting a white christmas this year?We usually don't have a white christmas, we have one every few years but most of the time its just bitterly cold on chrstmas day. They're calling for a few flurries here christmas day don't think its suppose to amount to anything though. We've got family driving in though so that'll be ok with us.
9 responses

• United States
22 Dec 06
We never have a white Christmas here in Lower Alabama (LA - hee hee). When it does snow here, which is about 3-4 times in my 39 years of life, it's usually in Jan or Feb. I'm sure it adds a lot of magic and wonder to look out at a snowy Christmas morning and I wish a wonderful holiday to all!

• United States
22 Dec 06
We are supposed to get a few flurries too and that's just fine with me. I don't like a lot of snow because everyone has to drive in it on Christmas. I've had so many white Christmases that it doesn't really matter much, as long as I'm inside, cozy and warm


• United States
22 Dec 06
Here in New York we usually have a white Christmas but that doesn't look like it is going to happen this year. I am hoping for at least a little bit.


• United States
22 Dec 06
In Indiana, we usually have a white Christmas. But this year there is no snow in the forcast. We had snow earlier this month but it is all gone now. We travel about 2 hours to my husbands family Christmas on Christmas Eve. Only once has the driving been really bad because of snow. Last year, it was bitter cold.

• United States
26 Dec 06
i remember when i was younger, we had snow every year for christmas..every single yera...now...we have not had one for a couple years which is odd. being in southern illinois, we expect it to get icy and cold but it hasnt been. i mean seriously..i saw YARD SALES still out in december. am i the only one who sees something odd with that?

• United States
28 Dec 06
We don't get snow or rain where we live. So, no white Christmas's here.