do you practice meditation?

Indonesia
6 responses

• Greece
22 Dec 06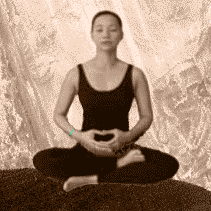 yup.....i practice it sometimes, when i need to release all stuck in my head. Also I can feel the sensation of meditation when i'm on sholat. Actually, sholat on moslem can be a media for relaxation beside communicate with Allah

• Australia
22 Dec 06
I sit down and listen to my meditation cds. I have one with flowing water which is so peaceful. I concentrate on the sounds and imagine it washing away all the negativity from my life. I find it give me more of a chance to focus on the things which matter in life than concentrating on the negativity of life.

• South Africa
22 Dec 06
I try to, although I am struggling to find time to do it (or much else for that matter). I practice a very simple form of zazen (sitting meditation), where I simply sit, and focus on my breathing. I really should start doing it more, it will definitely help me with all the stress in my life at the moment.

• India
22 Dec 06
In today's stressful and restless days, meditation is one of the cures for all mental problems of the people. I do meditate for 30 minutes in the evening after sunset and after dinner. the method is very simple. I sit casually What ever thoughts I get slowly I get rim saying to myself that it is not for me. Still some thoughts won't go. I tell my mind I need peace and I do not want thoughts. Still one thought definitely remains. That is about money. I concentrate on money thought throughtout. Somedays when I donot feel for money, that day I will be able to control the mind, by suspending the all thoughts from my mind. Except the god nothing will be in the mind and that day I feel great. It gives extra energy to do lot of work and all works I can do with speed, with clarity of mind and with least mistakes.


•
14 Jan 07
Yes I try and meditate every day. I sit in a quiet place, close my eyes and focus on breathing through my nose. If any thoughts arise then I just return my focus to my breath. I find that meditation helps me to be a much calmer person and it's also a very good method to help me unwind after coming home from work.