what do u think of Taj Mahal?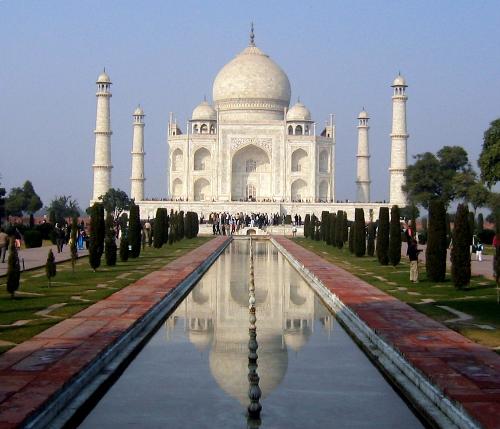 India
December 23, 2006 1:56am CST
The Taj Mahal (??? ???, ??? ???) is a monument located in Agra, India. Shah Jahan, who commissioned the monument in honor of his second wife, Mumtaz Mahal.The focus of the Taj Mahal is the white marble tomb. Like most Mughal tombs, the basic elements are Persian in origin: a symmetrical building with an iwan, an arch-shaped doorway, topped by a large dome. Shan Jahan's tribute to his lovely wife Mumtaj Mahal, started building in 1631.
9 responses

• India
23 Dec 06
what can we say about Taj Mahal - it is just beautiful . I've seen it once . and there are many topics about Taj Mahal on this site . this topic is from wikipedia and it may not exist for a long time here . According to the Mylot guidelines , one should not copy information from other web sites including wikipedia ...

• India
11 Feb 07
Tajmahal is one of the most beautyfull monument in india ... my one and only girlfriend also love it.. it is lovely.. i've seen it once..



• Australia
4 Jan 07
I think it is a really good wonder in the world. I hope to visit it one day; hopefully it lasts a long time!

• Pakistan
27 Dec 06
The Taj Mahal (Hindi: ??? ???; Persian/Urdu: ??? ???) is a monument located in Agra, India, at 27° 10'28.67"N, 78° 2'32.05"E, constructed between 1631 and 1654 by a workforce of 22,000. The Mughal Emperor Shah Jahan commissioned its construction as a mausoleum for his favourite wife, Arjumand Bano Begum, who is better known as Mumtaz. The Taj Mahal (sometimes called "the Taj") is generally considered the finest example of Mughal architecture, a style that combines elements of Persian, Indian and Islamic. The Taj Mahal has achieved special note because of the romance of its inspiration. While the white domed marble mausoleum is the most familiar part of the monument, the Taj Mahal is actually an integrated complex of structures.

• India
23 Dec 06
tajmahal is the 8 th wonder in the world.it is shah jahan who built it as the significance of his love against mumtaj and many lovers make a spot to propose there.it is made of marble which recently due to acid rain is changing the colour and one beautiful place in india