Christmas, did you get what you wanted?

United States
6 responses

• United States
25 Dec 06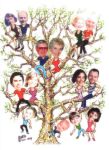 Well, I may not have been able to relax, but yes I got what I wanted...not the presents, but that I had my family around me and we all had a great time...that is all I ever wanted for Christmas anyway. Merry Christmas to all.

• United States
25 Dec 06
Beth, I know it isn't about the presents. I just figured that would be a title that would catch people's eye. Thank you for pointing that out as I do know many people probably are confused about the real meaning of Christmas.



• United States
29 Dec 06
I had a really nice Christmas and hope that you did too. I got the three things that I really wanted plus some other really nice things so I'm really happy. I only bought my parents and my daughter gifts this year. Then Christmas day we spent at my Aunt's house in Ohio where I spent most of the day doing cross stitch which was really nice.

• United States
1 Jan 07
I think it is a really good idea to limit the people you buy for. I buy for my dad and stepmom, my three girls and my husband. Then I give other people, friends, etc gifts. Usually these are things I made myself, or re-giftings.

• United States
25 Dec 06
wow, you must have celebrated bright and early. Dh paid for the laptop I bought on BF and that is all the present that I got from him. That was a lot for us. We don't spend that much generally. I was planning on buying one present for a neighbor that hasn't happened yet but other than that did pretty well. I am relaxing now but it won't last. Tomorrow is dd birthday party. We aren't ready for that so will have to fight the day after Christmas shoppers to pick up a few party items.

• United States
25 Dec 06
Actually, no... LOL. Dh bought himself a memory foam pillow that was from me. And I bought myself yarn that was from him... LOL. So we have actually had our presents for a couple weeks. DD#3 stayed with friends last night, so she got her present on Saturday. I opened stepmoms present on saturday too and put it together. It's a dog that holds toilet paper. I did want one, so that is good. A friend from church gave me a journal, which was exactly what I wanted. I had decided to try to journal more this coming year. So I started today. Well, I guess that covers gifts. Later today, I'll go spend a couple hours with a friend and pick up dd#3. That is about the extent of our celebration. Oh yesterday we had a Christmas play, it was real nice.