CHRISTMAS: A Time for Charing and Giving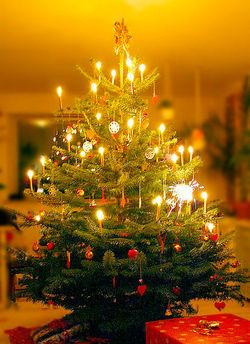 Philippines
December 25, 2006 9:35pm CST
I just want to share this article on what I've read in thehistoryof.net Most people in the world celeberate Christmas. Although there are some religions who believe that Christ wasnt born on December 25th, and so celebrate at other times of the year, the holiday remains most popular of the year-especially for kids. Even though Christmas has become a celebration of gift-giving, it's important that we look back on all Christmas traditions and remember their relevance to the holiday. We need to remember that Christmas is a time for getting together with family and friends, and sharing together, the peace and harmony that are a natural part of our lives. The history of Christmas is spread among many customs, from many countries. But the underlying the international tradition always lives on - "Peace on Earth" MERRY CHRISTMAS TO ALL OF YOU!
2 responses

•
16 Nov 07
yes, i have heard that december 25 was not really the real date of birth of Jesus Christ and no one really knows the real date of birth of Jesus Christ. i really like spending christmas time with my family. hopefully that i will have a great time on christmas. i believe that christmas is really a season of giving as you ahve said. hopefully that poor people will be able to christmas as well so that people will never get sad on this occassion. i really want to see some poor people enjoy their christmas so that they will be able to appreciate this season and this will not be a season for them to get sad and feel deprived in life. i really think that most people are just too busy being with their friends and celebrating and eating. and they really don't put much attention on the real reason of christmas. i really on christmas we should really honor the celebrant. we should really our Lord by praying on that time and by helping people. this is a season for giving but i rarely see people doing that. they really just depend on some organizations to do that for them. sometimes i really want to donate some things and some money to some organizations so that i will be able to share some blessings to them. sometimes i really want to spend it somewhere else like in poor communities or in some hospitals where there are some sick people who wants my help. i will still want to do that someday. the problem with christmas is that my family is not here in my country. some are still here and some are now working abroad and most of my relatives have migrated too in search of a better life. hopefully that there will be better life here in my country so that we will no longer need to go other countries so that we will be able to earn some decent money. i really think that it's sad when family are not together in some specialy occasions like these. there are lots of broken families now in our society who will not really enjoy their christams. our christmas are really commercialized and that's really bad. hopefully that there will more ways to celebrate christmas than what we are doing now.

• United States
26 Dec 06
Hi! Thank you, and Merry Christmas to you, too!