Deer/Auto Accidents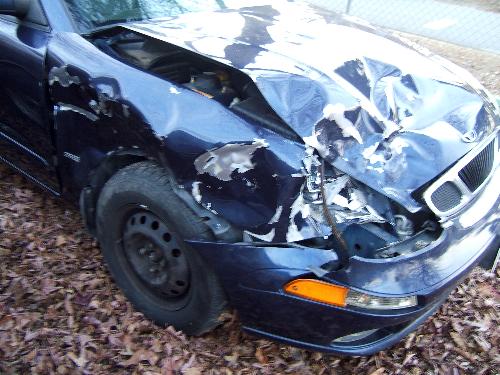 United States
December 26, 2006 12:08am CST
About two weeks ago I hit a deer while driving and it about destroyed my car. This is a huge problem in the US, with hundreds of accidents a year. Has anyone else ever hit a deer or other large animal? If so, how badly were you hurt, and what kind of damage did it do to the car?
2 responses

• United States
26 Dec 06
I have come very close to hitting a dear one time. I wasn't the driver I was a passenger. A couple girls that went to my highschool were killed in a deer/car accident. Just remember, its a deer, hit the thing full speed and it will be safer for you.

• United States
26 Dec 06
I agree about hitting it full speed! I hit mine while going 60... I never saw it coming and had no chance to brake. However, I'm sure that if I had seen the deer I would have instinctively tried to swerve and miss it, and more than likely ended up with my windshield busted in, or worse. I think there was definitely someone watching over us that night. Thanks for your response!

• Canada
26 Dec 06
I was a passenger in a car that hit a sizable deer. It caved in the whole front of the car, smashed the windsheild and left huge gouges right down one side. We were able to limp the car to the nearest town, but it was a mess. It needed huge amounts of body work. The deer was killed. We were fine, but I saw the antlers hit the glass right in front of my face - if they'd broken all the way through I'd have been toast. A friend of mine hit a moose once in a pickup truck. The moose gave him a dirty look and walked away. He walked five miles to the closest town to call a tow-truck.

• United States
26 Dec 06
Holy cow, those are both crazy stories! Yes, my deer was quite sizable too... an eight point buck! I hit it about perfect in terms of avoiding serious injury, but it blew my radiator and we were definitely not going anywhere else in my car that night! Unfortunately I was in the middle of nowhere on the way home for Christmas break from my rural college... my dad had to drive an hour to get to me and we then had to transfer just about everything I own from my car to his truck... in the middle of the night. It wasn't fun, and I was sore for several days!