What are your top 5 favorite foods/flavors that you couldn't live without?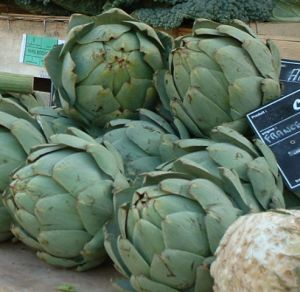 Malaysia
December 26, 2006 5:52am CST
Mine are: Artichokes My grandfather was a produce manager for a grocery store and when I was a little girl, I was introduced to every vegetable available. I live by my grandfather's statement that there are no vegetables that people hate, just ones that they haven't learned to pick and/or cook properly. The almighty artichoke will remain one of my favorite foods, period. I live for summer when they come into season and prefer to eat them hot with melted garlic butter. My mouth is watering just thinking about them. Hazelnut Sure, my favorite way to consume hazelnut is with the heavenly Nutella. I can't imagine there being a better flavor in my mouth other than... um, well, yeah. I also prefer to get hazelnut flavored coffee whenever I can and squeal like a happy little girl when I find a store that sells Toffifay. Oooo, and Ferrero Rocher. You get the point. Garlic I honestly believe that any recipe you cook can always be improved by adding a little garlic to it. When I would visit my grandfather at his work, I'd run up to the bins of garlic and rub them in my hands then breathe their scent in deeply like a crackhead getting their first hit. And this was when I was 2 years old! Whenever there is an option for garlic bread, garlic butter, garlic crust, fresh garlic, cloves of garlic... anything... I am ordering it and not sharing unless you bribe me with something extremely worth my while. (Maybe an artichoke would do it.) Cheese A world without cheese is a world that I don't want to live in. I'm a bigger fan of the softer cheeses from cream cheese to ricotta to Herve to the hard to find (around these parts) Japanese Sakura cheese. (My sister is a Japanese language student and refuses to tell me whenever she gets her hands on this.) But you can happily occupy me with a stick of mozzarella cheese or a hunk of Monterey Jack. And don't even get me started on Parmigiano Reggiano. Pineapple Love it. Because, well... it's sweet. And it makes other -*ahem*- stuff even sweeter. I showed you mine, now you show me yours!
7 responses


• Ukraine
26 Dec 06
1. Fried chicken - can't explain, it's my favorite food and I can't do anything about that :) 2. Grilled cheese - I think it's not only me, grilled cheese is tasty! 3. Hot bread - just out of the oven, nothing can compare to that. 4. Milk - very basic flavor, but I can drink a bucket of it :) 5. Tomato catchup - especially home cooked.


• Malaysia
7 Jan 07
I totally agree about the garlic part. That is one of my staples buy when I go shopping.

• United States
27 Dec 06
Chocolate, chicken (fried, baked), salmon sushi, ice cream, cheese cake

• United States
26 Dec 06
Three foods I cannot live without: beef, cheese, chocolate.