Have you ever come across a bad mother?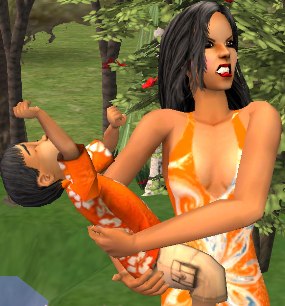 India
6 responses

• India
19 May 08
Bala, history would vouch for 'bad mothers' but then they had been a 'bad human' altogether. They were bad mothers bad daughters, bad wives and bad humans. There could be deadly instances of bad mothers but I haven't seen anyone in person. May be some are not competent enough but with their good intentions how could I call them bad!

• India
19 May 08
Even I haven't come across any bad mother who is intentionally bad.They must be a bad human altogether as you rightly put it or else must be an incompetent mother as you and Sandhya puts it.Any way I am proud that we are a bunch of good people to see things eye to eye or as a crowd eyess to eyss.

• India
20 May 08
What's happening bala. Are you ok, i mean over the booze...so many typos!! *laughs*



• India
21 May 08
I have witnessed the cruelty of a bad mother.I was in a boarding school.There was one girl who was in my class who used to be really petrified of her her mother.If the mother came to visit her she used to shudder in fear.I have seen the mother always abusing this girl never a knd word.she always had this scrowled look on her face.She would never give her anything.No pocket money no tuck nothing at all.We all used to feel sad for her and we used to pool in and get things for her.Her father used to come visiting alone without the mother's knowlegde he used to be very nice to this girl and she would get lots of pocket money and tuck from him.at times we used to wonder if its her real mother or step mother. It was her real mother ofcourse.In our school finals this girl failed.She was really scared to face the mother.The mother arrived armed with an instruement which is pretty sharp and is used to take out the knots from the hair.She just pierced the girl's palm with it.it was horrible.It took days to heal.It was ghastly.So there some real BAD MOTHER'S who do exist.

• India
21 May 08
Hi B!Long time no see.Yes there are some mothers who are worse than the creatures that crawl out from under the stone.In the entire animal kingdom there is not even a single species that is cruel to its young ones except some stray human beings.Well may be it is one of the side effects of being born with that exclusive intelligence reserved for the humans .Maybe the so called super species can learn a thing or two from the the lovely ones we call the beasts.

• China
21 May 08
Yes.Around me,some mothers exchange their daughters into money.I can't understand. I think some animals are better than them.Athough they give the life to their chilren,they have no right to grip all their fortune.It's unmoral,I think.


• India
19 May 08
Besides the mothers that I read about in the newspaper who harm their child, I have never come across as a bad mother. I know some mothers with bad parenting skills...but their intentions are pure and they do not mean to harm the child. But what they think is good/right for the child isn't really the case. I wouldn't really call them 'bad' mothers....'unskilled' mothers would be the right term.