BABY BEAUTY PAGAENT/ BABY MODELiNG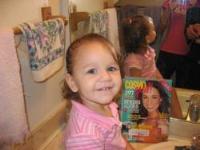 United States
September 26, 2006 2:09pm CST
A LOT OF PEOPLE SAY i SHOULD ENTER MY TWO YEAR OLD DAUGHTER iNTO MODELiNG. i THiNK iT WOULD BE GREAT TO HAVE THAT EXPERiENCE BUT iM SCARED THEY become POPULARiTY CONTESTS AND i DONT WANT TO HAVE THAT PROBLEM. WHAT DO YOU THiNK ABOUT BABY MODELiNG?
4 responses

• United States
20 Nov 06
She's so cute! Why not try modeling or beauty pagents, as long as you don't get out of control with it?

• United States
20 Nov 06
I think it's a great idea if your daughter loves being the center of attention! :) My daughter LOVES taking pictures, playing/trying on clothes, and being the center of attention. I've always been told she would make a beautiful model or baby actress because of her personality and beauty. My only problem is figuring out where to start! :)

• United States
20 Oct 06
I do not think baby modeling or pageants is a very good idea. I see no reason to put children under that kind of stress. And I think it puts an unhealthy focus on looks.