Smoking Is Bad for the Brain?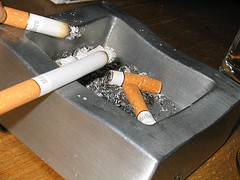 Pakistan
December 27, 2006 12:32pm CST
Smoking not only damages health, it is bad for the brain too, according to a Scottish study spanning nearly 60 years. Professor Lawrence Whalley and his team looked at how the cognitive abilities of 465 people, half of them smokers, changed over their lifetime. Smoking is strange behaviour. Almost every smoker knows that it's bad for his health, but many smokers continue the habit for decades, each year experiencing a further decline in health and well-being. Looked at rationally, smoking is quite disgusting. It stains the teeth and the fingers, causes bad breath, and creates an unpleasant environment for non-smokers.
5 responses


• India
26 Jan 07
thankyou for creating such a great discussion.. i am glad to reply to in this tag.. thank you for sharing with us.. yes smoking is bad for every thing..

• India
8 Jan 07
I would say from what I have learnt some scientist have discovered that smoking may be bad for lungs and throat but it is good for brain as it minimises one of the brain desease called the Parkinson's Desease and it is mostly found in men.


• India
28 Dec 06
i dont think so. I do lot of prople who were smoking for years together(10 years) continuously and didn't get affected with any cancer or so. It depends on individual's health and his immune system.