Red Sox

United States
6 responses

• United States
31 Oct 06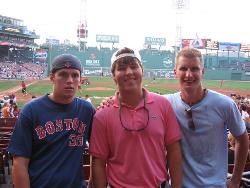 The Redsox will need more than a makeover to win the tough AL East. With the Yankee dynasty and an improving Toronto team, that division should be better than ever in 2007. Your team needs not young pitching, but talented pitching. As it stands, Beckett and Clement are about as overrated as they come in the major leagues. Schilling is still a good major league pitcher, but your guys need more quality front-end depth. Also, it wouldn't hurt if you gota better center fielder and left fielder.

• United States
18 Dec 06
Maybe C.Crisp isn't that great offensively but he makes up for it on defense.

• United States
19 Dec 06
I think they have a good chance to beat the Yankees in 2007. With a rotation that is five men deep and an improved lineup, I can see the Red Sox remaining competitive the entire season. The team that people need to look out for is the Toronto Blue Jays. If all of their starters remain healthy (it has to happen one of these days), then they can compete for the division crown as well. The Yankees have a very suspect rotation, so Red Sox fans may finally get their wish. Of course, the Yankees usually have their number so we'll see what happens.

• United States
18 Dec 06
They have to keep their players healthy. Work on Manny's defense, play some consistant ball, and get the most out of their young pitchers.