How muck did you pay for a pizza in your country.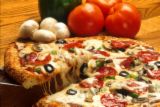 Romania
8 responses

• United States
27 Dec 06
It really depends on where u get the pizza. We usually buy Pizza from Marcos or East of Chicago and we usually pay around $20 for a couple pizzas and maybe some bread sticks. There is another place we don't go to because u have to pick up the pizza but u pay only $5 a pizza. If there was a plce like that closer to where I live then I bet we'd go out and get that pizza instead.

• United States
27 Dec 06
I've paid as little as $5 from one place and as much as $17 at another. It really depends on where you go to get it, what you have on it, and the size of the pizza. You can get a frozen pizza between $0.96 - $5.98 here in America.


• Italy
27 Dec 06
ohhh I love pizza! I am from Italy and for a pizza margherita I pay from 3€ to 5€uro. If I want a 4 season I pay from 5 to 8. If there is some fish on the pizza, you could pay it more..up to 10€ I think. Anyway I always take a 4 season...or a margherita, or a mushrooms pizza, in mean I pay 5€ for it



• Beaver Dam, Wisconsin
27 Dec 06
A frozen pizza usually runs $3-6 here (Wisconsin). If you go to a restaurant, about $15.